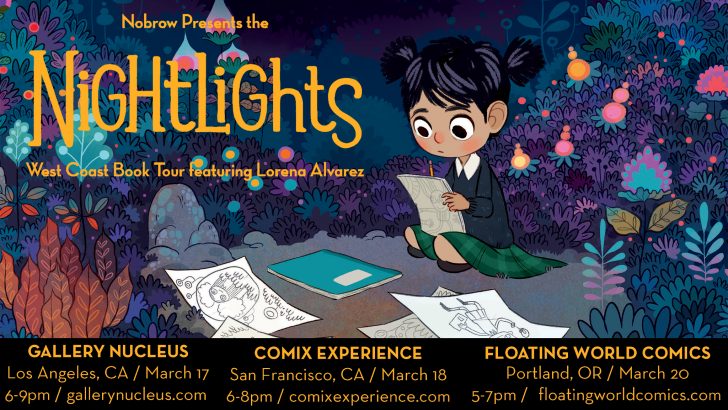 We've got a real treat for you this time!
One of our favorite new artists, Lorena Alvarez, will be headed out to enjoy the scenic west coast, where she'll be making stops at Gallery Nucleus, Comix Experience, and Floating World Comics to celebrate the release of her debut graphic novel Nightlights!
Nightlights is the enchanting story of Sandy, a bright eyed and creative little girl, and her budding friendship with the mysterious new girl at school, Morphie, whose fascination with Sandy's drawings begins to take a turn for the sinister…
The Nightlights Tour is your chance to be among the first in the US to pick up a copy of Nightlights, and to catch Lorena in a rare US appearance! You can meet her at these three tour stops:
March 17, 6-9pm
Gallery Nucleus
210 E Main St
Alhambra, CA 91801
March 18, 6-8pm
Comix Experience
305 Divisadero St
San Francisco, CA 94117
March 20, 5-7pm
Floating World Comics
400 NW Couch St
Portland, OR 97209
It's going to be a fun time, so make sure to come out to meet the amazing Lorena Alvarez and get your very own signed copy of Nightlights, the book Publishers Weekly calls "captivatingly eerie […] a deliciously hair-raising story!"
See you there!