Our spotlight series dives into some of our favourite titles released in previous years. Here, we share a glimpse into the first pages of IN WAVES, as well as reconnecting with the author to discover how they feel about the book now, and what they've been up to since the book's release.
In this visually arresting graphic novel, surfer and illustrator AJ Dungo remembers his late partner and the shared love of surfing that endured throughout their difficult times. Dungo explores the beauty and complexity of his relationship with his partner as they face her prolonged battle with cancer. With a passion for surfing at the forefront of this narrative, Dungo intertwines his own story with those of the great heroes of surf in a rare work of non-fiction that is as moving as it is fascinating.
Preview the first two chapters of In Waves…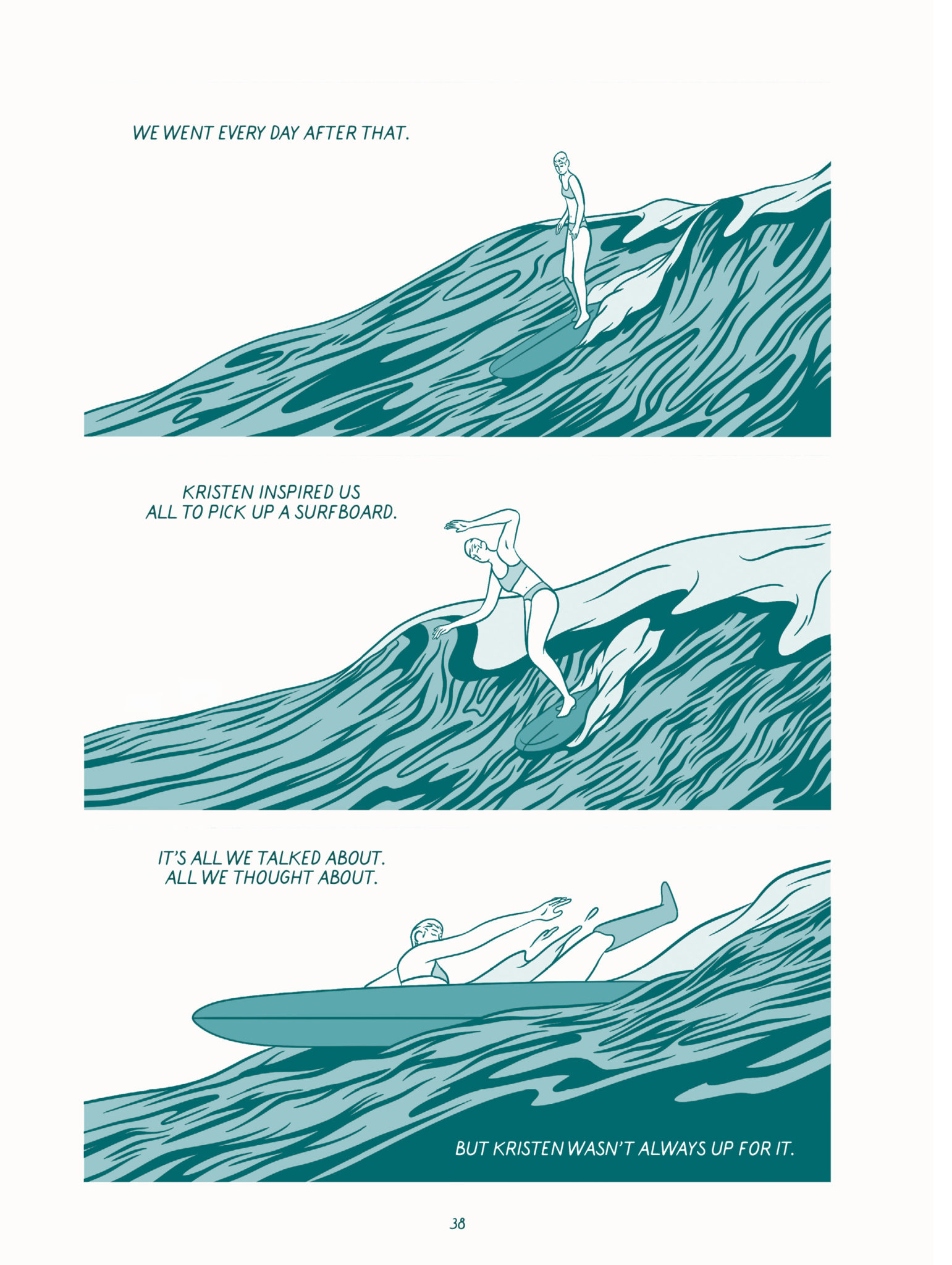 Text and illustrations © AJ Dungo 2019
---
Can you tell us how In Waves came about?
In Waves was a project born out of grief, belief, and timing. I provided the grief, Nobrow provided the belief, and the universe provided the timing. It was this cosmic stew of ingredients that birthed the book that changed my life.
Sam Arthur was instrumental in my process for creating this book.
It was the summer of 2016, I was a recent art school grad visiting the Nobrow office in Shoreditch. I presented a school project for this study abroad trip sponsored by my alma mater. The assignment was to create a body of work and package it in a deliverable form (i.e. zine, booklet, screenprints). The objective was to encapsulate a piece of California culture and retell that history with your art in some way. I created a printed box of ephemera about the surfing pioneer, Tom Blake. I filled that box with screenprints, riso prints, and newsprint; all different forms of printed matter that a publisher like Nobrow would appreciate.
Sam was very generous with his enthusiasm when it came to my project. So much so that he emailed me when I returned home and offered me an opportunity to create a book with Nobrow. I was completely shook. It was a dream offered through my inbox and I gladly accepted.
At the same time, I took a full-time position as a footwear colorist and started to moonlight as an editorial illustrator. On top of that full plate, I was still in the throes of grief, mourning the loss of my girlfriend, Kristen Tuason. She passed away from cancer at the age of 24, 6 months earlier.
Writing this book was difficult. I liken it to cutting a vein and letting myself spill out onto my keyboard. I would deliver drafts to Sam every few months to see if we were on the right path. He would be nothing but supportive, guiding me through it all. There were plenty of amazing staff at Nobrow that also helped to walk me off the ledge during the writing process.
Drawing this book after having to write this book was like switching from a bicycle to a rocket. It felt like second nature and I was in my element. I used a ton of reference; surf photography, historical photography, google maps screenshots, personal iphone photos. Anything and everything was fair game to get this thing done as fast as possible. I wish I had time to ink it with a brush but it was all done digitally on photoshop to save time.
It was a race to the finish. I was still trying to juggle a full-time job, freelance projects, and this book. I was working every day, every weekend, every holiday. It was a way to process my grief productively but also slowly kill myself responsibly. Eventually it was finished and Nobrow released it out into the world.
What reflections do you have on creating the book now?
When this book was finished and printed, I honestly thought a few people might be into it and I would be able to move forward with my career, quietly grinding away. But that's not what happened at all. It's been three years since we published this book and it's still going.
When I wrote and drew this book, I had such tunnel vision that I didn't think about the reader. I just thought about Kristen. I wanted to preserve her and capture as much of her essence and her story before she was lost to time and my failing memory. I honestly thought this was a niche project in a niche medium that would largely go under the radar.
Instead, it exploded.
I have slowly come to realize how universal the themes in this book are. I cannot tell you the amount of people that have reached out to me in person, online, via snail mail, through fan art, school assignments, to tell me just how much this book means to them.
How it helped them process their own pain. How their family is going through something similar. How they have cancer themselves and needed to read something like this to make it through their treatment. How they find solace in surfing. How they see themselves or those they love in these teal and sepia pages. How they are just experiencing love for the first time. How they have lost their love. People old, young, foreign, domestic, avid comic readers, new readers, surfers, non-surfers, adore this book.
And they love Kristen. They carry her memory along with them and she is very alive to them. That is something that I could have never imagined. I don't speak the same language as half the readers of this book yet we share the same pain, the same values, the same human experience. This book has been such a gift. I wish Kristen could see everything that has come from her story and her struggle. She would be over the moon.
What have you been up to since the publication of In Waves?
Since In Waves has been published I've traveled the world thanks to the amazing foreign rights specialists at Nobrow. I've met countless people and publishers, met my heroes, spoken at festivals, painted murals, had gallery shows, filmed projects, and surfed my brains out. In Waves has been translated into almost a dozen languages and a French film studio is currently adapting it into an animated feature film. I've recently gotten married and I have two book projects in the works, one of which is with Nobrow. This book has opened up so many doors since its publication.
Do you have any advice for people hoping to create their own graphic novels?
Your voice, your story, your experience is meaningful. It may take someone like Sam or a publisher like Nobrow to convince you of that very basic truth but if you have a desire to put something out into the world, do it. Dedicate yourself to it and make it the way you want to make it.
Also be kind, it goes a very long way.
In Waves
AJ Dungo
Buy the book: