Our spotlight series dives into some of our favourite titles released in previous years. Here, we share a glimpse into the first pages of GARBAGE NIGHT, as well as reconnecting with the author to discover how they feel about the book now, and what they've been up to since the book's release.
Meet Simon, Reynard and Cliff – three animals living in a derelict town looting the desolate supermarket and waiting for the return of the hallowed garbage night. While scavenging one day, the trio meet Barnaby another abandoned dog who tells them about the other town where humans are still rumored to live. Spurred on by hunger and the promise of food, the trio joins up with Barnaby and set off into the unknown…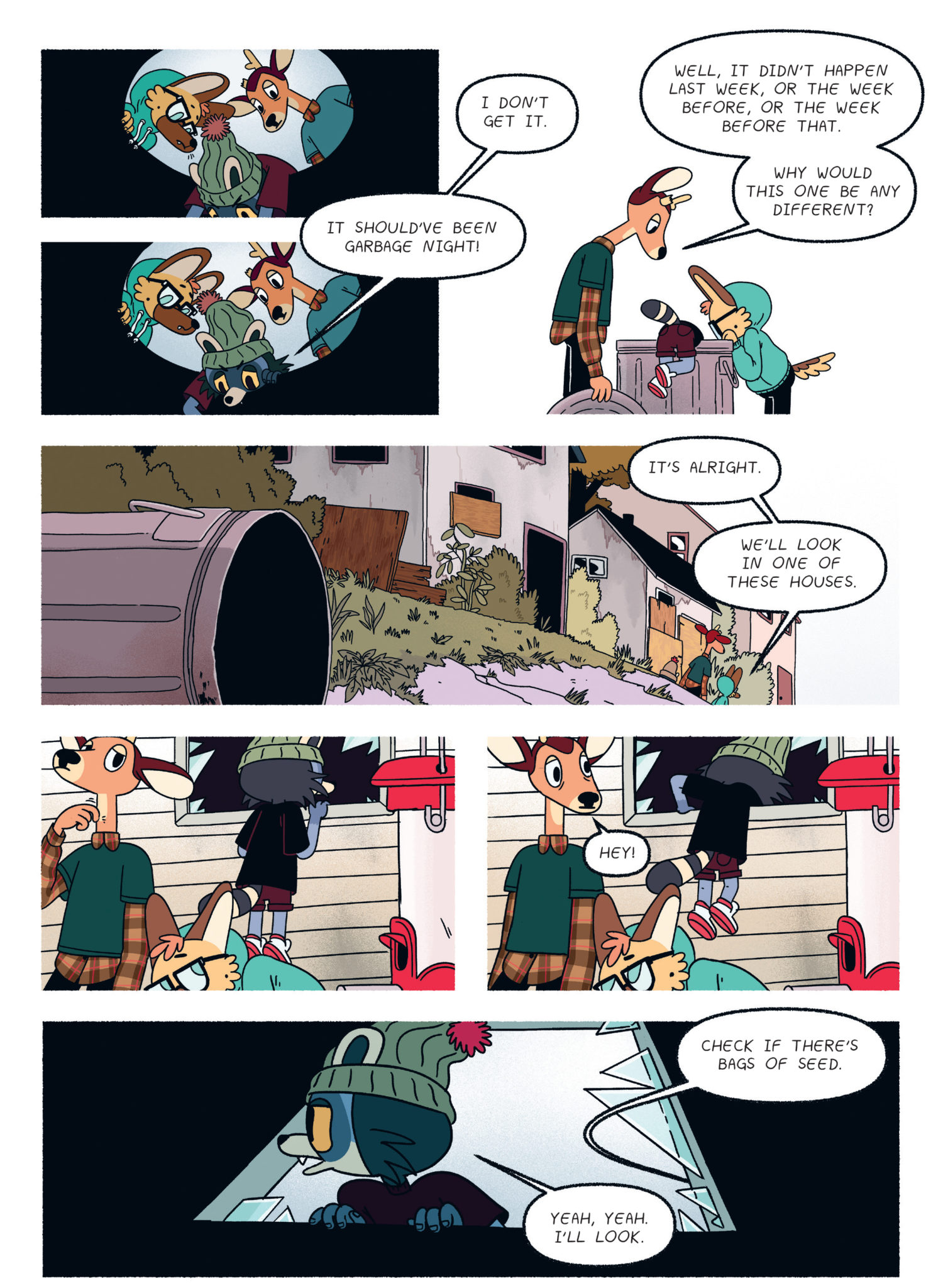 Text and Illustrations © Benji Lee
---
"Looking back at the start of Garbage Night, my personal life and surroundings are what I think about. Simon, Reynard, and Cliff have been characters of mine for many, many years before I even got to work with Nobrow. Their stories changed, but always involved friendship at- or after- the end of the world.
It's been about 7 years since Garbage Night has been published, the first ""pilot"" book was Vacancy in 2015. A lot in life has changed throughout, which would effect the writing (and scheduling! haha). When I first pitched the current book I'm on it was right when I was going through a huge breakup in 2017, and having to move from Idaho to LA. Like the characters in my stories, I had my life uprooted but quickly made a lot of dear friends in my new home.
Then I think right when I was about to buckle down and go hard on Garbage Night 2, the pandemic happened! Go figure. After a year plans were again interrupted by news of my dog Sarah being diagnosed with sarcoma cancer and given an estimated several more months. Don't worry dear reader, she has surpassed that estimate. Sarah is still living comfortably and happily, her oncologist hesitantly calls it a miracle.
Garbage Night 2 has been going through a few iterations since then, and as the world becomes more fascist and burns I have admittedly been wanting to move away from the whole "depressed animals deal with the apocalypse" thing. And so, I have recently decided to wrap up their story in this book. I think the outcome is going to be really good- with my new skills from working fulltime in animation, I think that my comics have become less broodscapes and better paced, maybe even funny.
Even though I am outgrowing the story, I am very proud and thankful that I've had published books about my OC's I've had forever. I especially think teen me would be very happy about this future. I am also thankful for all my friends and fans who are always stoked to see any new releases for me, even if there's quite a bit of time inbetween. I am happy with the send off I am giving in Garbage Night 2, and how different it might feel in comparison to the earlier books- there are readers who found the first book when they were in middle school. How different do they see the world now?
Anyone looking for advice from me on creating your own comics- do it! Post it online- or don't! It's up to you what you want to share with the world. Don't hold back waiting for the great idea, just create as you are inspired. Not feeling inspired by that idea anymore? Move on, it's fine. Also, sometimes you will post something and it won't become popular- I think this is ok too. It's a beautiful thing to just create something you want to see, and even if one person also likes it I think it's valuable. Lastly, take breaks watching TV or playing video games- the things your mom told you were bad. You need rest, and fun things are fuel for your creativity."
Garbage Night
Benji Lee
In a barren and ransacked backyard, a dog named Simon lives with his two best friends: a raccoon and a deer. The unlikely gang spends their days looting the desolate supermarket and waiting for the return of the hallowed garbage night but week after week, the bins remain empty.