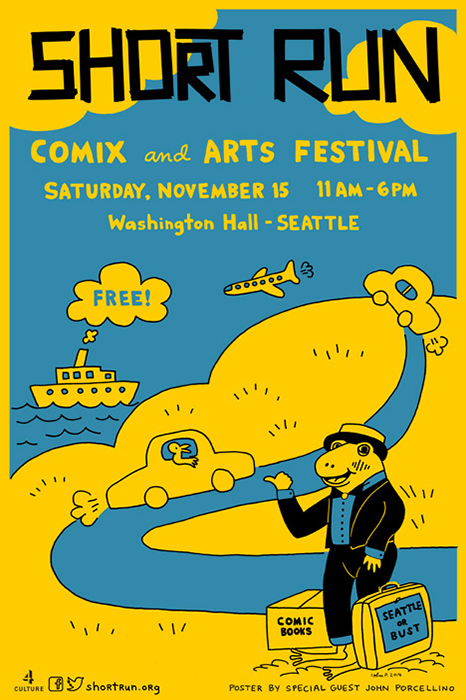 Nobrow is packing it up and heading out to Seattle, home of the wonderful Short Run Festival.  Going on its fourth year, Short Run is a fun festival celebrating comics and art in the Pacific Northwest and around the world.  Your friends at Nobrow fall squarely in the "around the world" category, so of course we're bringing our beautiful books from our internationally renowned artists!
We'll also have our newest releases like Roman Muradov's beautiful and mysterious (In a Sense) Lost and Found, Corinne Maier and Anne Simon's essential Marx, and Dustin Harbin's tremendous Behold! The Dinosaurs!, plus an appearance from our friend Jamie Coe, who will be flying in from London to sign copies of his new book, the excellent Art Schooled!
We're also excited about Jamie being named Short Run Festival's special UK guest this year, and we hope you'll join us at the festival, where he'll be signing his books and selling an exclusive limited edition screen print, and again on November 20th, where he'll be making a presentation at the Seattle Public Library's Capitol Hill branch.  A lot of big things are in the works for Jamie, so don't miss your chance to meet the man behind one of our favorite new comics!
If all of that sounds good to you, then we'll see you at Table B10 in Washington Hall in Seattle on November 15th for the festival, and again at the Capitol Hill Library on the 20th for Jamie's presentation!  We can't wait!  We won't!  In fact we're just going to head out to Seattle right now to get a head start!  See you there!