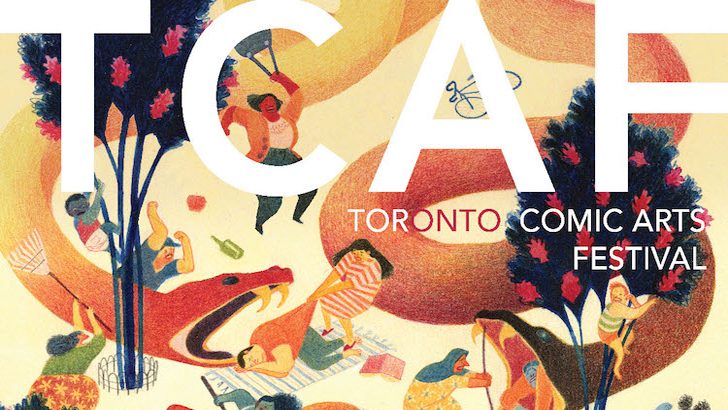 Oh my goodness is it time for TCAF already?? It is!
Nobrow will head up north this weekend for our beloved Toronto Comic Arts Festival to bring you a bounty of amazing books. TCAF is one of the top comics festivals in North America, and we're always excited to attend and to check out all the exciting comics debuting at the show.
We've got a couple of special debuts happening this year at TCAF and you definitely don't want to miss them!
First up is the hotly anticipated Garbage Night by Jen Lee! Garbage Night is the full length graphic novel follow up to Jen's hip animal scavenger drama Vacancy (one of our most popular titles in our 17×23 series), and TCAF will be the only place in North America to pick up a copy before its official release in June. It's already pulling in some high praise with Starred Reviews from Publishers Weekly and Kirkus. Not bad for a book that's not even out yet!
We've also got the debut of the brand new soft cover edition of Luke Healy's How To Survive in the North! The overwhelming positive response to Luke Healy's first ever graphic novel made copies pretty hard to come by, but if you missed it the first time around, don't worry – this beautiful soft cover edition packs in all the drama, hardship, and heartache from the top of the world that you've been hearing so much about.
BUT WAIT THAT'S NOT ALL! (Did you think that was all?)
Not only will we be debuting these outstanding new titles at TCAF, but we'll also be bringing along both Jen Lee and Luke Healy for signings at the Nobrow table (Table 146 & 147)!
Jen will be hanging out with us and signing copies of Garbage Night on Saturday from 1pm to 2pm and on Sunday from 11:30am to 12:30pm. You'll also be able to catch Luke and his personalized copies of How To Survive in the North on Saturday from Noon til 1pm and on Sunday from 12:30pm til 1:30pm.
This is going to be an amazing weekend at TCAF, and we can't wait to see you there!
TCAF
May 13 & 14
Toronto Reference Library, 789 Yonge Street, Toronto
Table 146 & 147