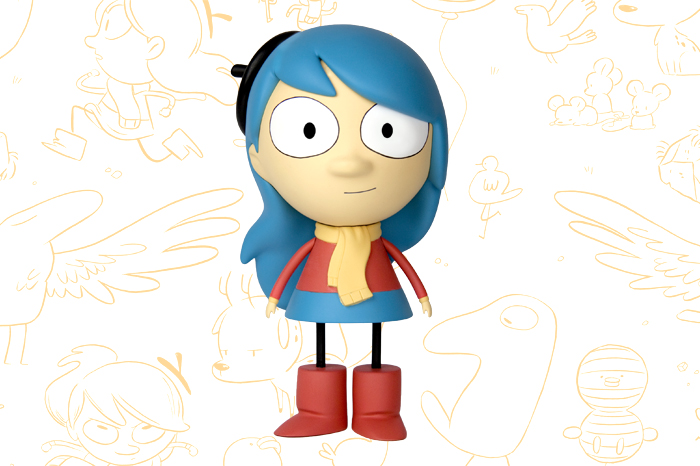 It's no secret that this little girl has been making waves since Luke Pearson penned her first adventure Hildafolk in 2010, and now we are very proud to announce that you can recreate the moss-loving, troll-befriending Hilda's escapades at home with this glorious, magnificent Hildafolk Vinyl Art Toy!
At 8 inches high she's the perfect size to act as a desktop buddy, or to adorn the shelves of your carefully curated vinyl toy cabinet.  Better yet, she has positionable hands and is safety-tested for ages 7 and up, so if your little 'uns have become a fan of her magical adventures they can play with her (provided they are 7+) without a worry in the world!
The best news?  We are giving you a pre-order early bird offer of £34.99 for this beautiful vinyl toy for just two weeks!  You can get a whole £10 off the RRP of £44.99 if you order between Wednesday the 7th and Wednesday the 21st of November!  EU customers also benefit from a big discount in this period from a list price of 56€ to the discount price of 43€.
This pre-order will ship on the 21st of December 2012, so unfortunately we can not guarantee pre-Christmas delivery.
So what are you waiting for? Get your Hildafolk Vinyl Art Toy at a great deal now while stocks last!
Below is some prototype artwork from the early design stages of the toy.