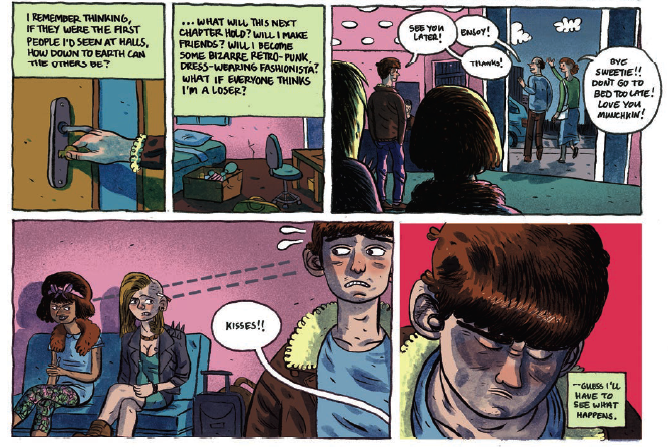 As this year's new set of students embark on their own art school journeys, we've a very special competition to announce!
Are you starting art school this September? We're sure that in the first month, you will have all kinds of new, wonderful and weird experiences and we'd love to see them! Send us a sketch of anything strange, funny or just totally surreal that has happened! You can show us @nobrowpress and @jamiecoeart using #ArtSchooled on Twitter, Instagram or Facebook and we will choose our favourite to win a signed copy of Art Schooled and a set of Nobrow sketchbooks!
And as if that wasn't enough to be excited about, we have Art Schooled at a special price of £9.99 until the 30th October in the Nobrow webshop! Buy it here!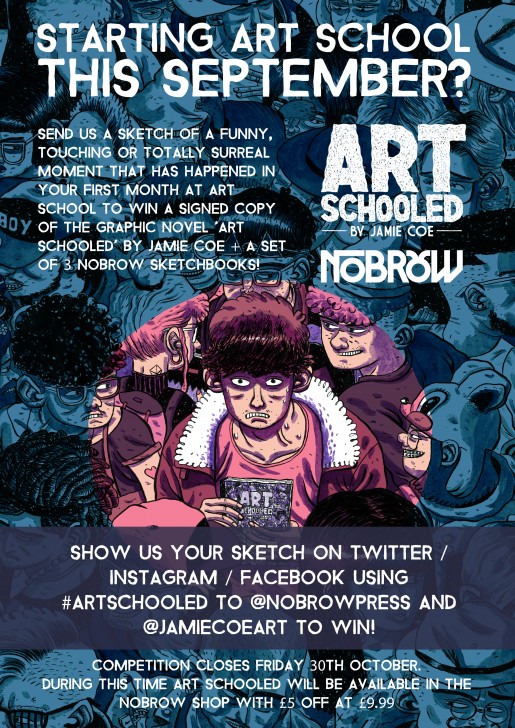 From the pastures of the country to the pavements of the big city; Art Schooled is an unforgettable journey into adulthood. Daniel Stope is a small-town guy who dreams of becoming an artist. His enrolment at art school and consequent move to the city opens up a world of exciting possibilities. Unsurprisingly, Daniel struggles with his newfound independence – the difficulties of dating and making new friends in the big smoke. Coe's tale is a visually powerful and enthralling graphic novel that anyone who has been through the doors of an art school can relate to!
1. What was the best thing about starting art school?
Probably the idea of leaving the nest and starting a 'grown up' life as an artist, living somewhere new (that you can keep as messy as you want = rebel), studying art stuff alongside like-minded people and making new friends.
2. …and the worst?
I guess it can be kind of cliquey at the beginning, but that usually settles down.
3. What do you particularly miss about it now?
I didn't think I would miss it as much as I do, but, yeah I definitely miss it. Art school is the perfect place to play around with your art, make mistakes, learn from them and grow as an artist. I really miss late-night drawing sessions with my buddies. We'd play music, drink some beers, smoke ciggies and just hang out making stuff till the early hours, was a great time.
4. What are your favourite 3 moments in the book and why?
A.) The 'Creepy Guy' scene because that actually half-happened, but it was when I was at school, before uni. I had a lot of fun drawing the opening panel, making the life drawing model as creepy and gross as possible. No disrespect to the life drawing model community of course.

B.) I really enjoyed writing and drawing the 'LABELS' section of the book, where there are diagrams of all the stereotypes of modern art school students, based on their fashion, interests and attitudes. It's a bit harsh, but go to an art school, you will see similar people.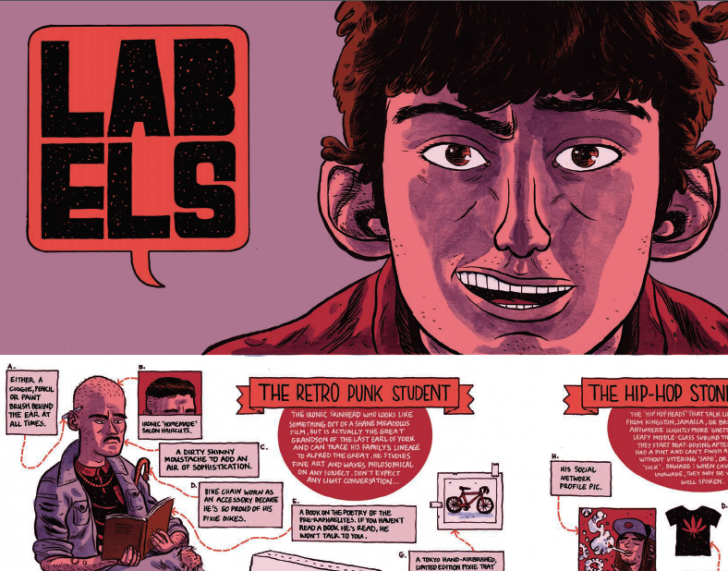 C.) The bit where Daniel punches Pip's ex-boyfriend in the throat. Because I got to draw someone getting punched in the throat.

5. How much of the book is based on your own art school experience?
It's a fictional story with fictional characters, but yeah, it's definitely based on a lot of my own experiences.
6. And what one piece of advice would you like to offer this years' new art school beginners?
(*clears throat, ready for an emotional, motivational speech*) I guess I'd say, enjoy it while it lasts (*cries pathetically*) and you know, 'work hard, play hard'.
GOOD LUCK!