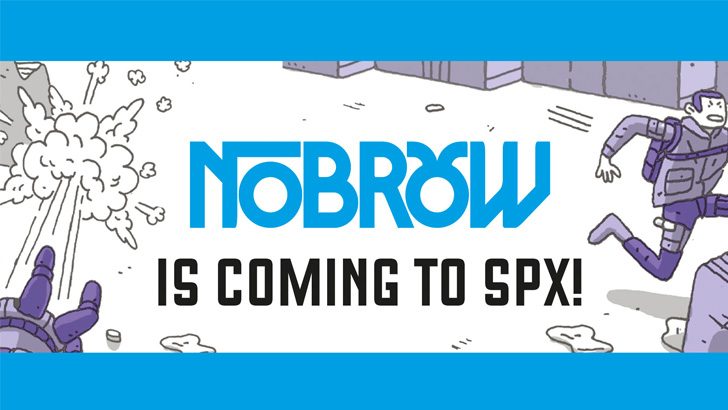 Bethesda, MD–
You better make sure your weekend is free because NOBROW is headed to SPX, and WE'RE BRINGING SOME HEAVY METAL!
SPX is always special, and this year we're bringing along some extra-special guests.  We'll be rolling in with Sam Bosma (Fantasy Sports series), Wren McDonald (SP4RX, Cyber Realm), Luke Healy (How To Survive in the North), Jeremy Sorese (Curveball), and José Domingo (Pablo & Jane and the Hot Air Contraption), and they'll be hanging out, signing books, and drawing up a storm!
Here's when you can catch them signing at Table W76-78:
Saturday:
12 – 1 Wren McDonald
1 – 2 Luke Healy
2 – 3 Jeremy Sorese
Sunday:
12 – 1 Sam Bosma
1 – 2 Wren McDonald
2 – 3 Luke Healy
3 – 4 José Domingo
It's going to be an exciting SPX for us because we've got not one, not two, but THREE Nobrow artists nominated for Ignatz awards! Ryan Heshka (Mean Girls Club) is nominated for Outstanding Artist, Joe Sparrow's The Hunter is nominated for Outstanding Story, Sam Bosma's Fantasy Sports is nominated for Outstanding Comic.  We'll have all of those titles with us so you can experience all that top-tier prestige first hand.
"But will you have anything new?"  Buddy, you better hold on to your hat because we're bringing some amazing new titles, a bunch of your old favorites, and some stuff you haven't even seen!  Get ready to be among the very first to get your hands on two SPX exclusive debut titles, Luke Healy's How To Survive in the North, and Wren McDonald's SP4RX (be sure to check out the killer book trailer on our Vimeo page).  Both will be out later this year, but we'll have advance copies ready for you at our table!  We're also bringing along a couple of certified mega-hits, Sam Bosma's Fantasy Sports 2 and the latest in Luke Pearson's Hilda series, Hilda and the Stone Forest.
There's going to be so much good stuff, we can't wait to see you there!