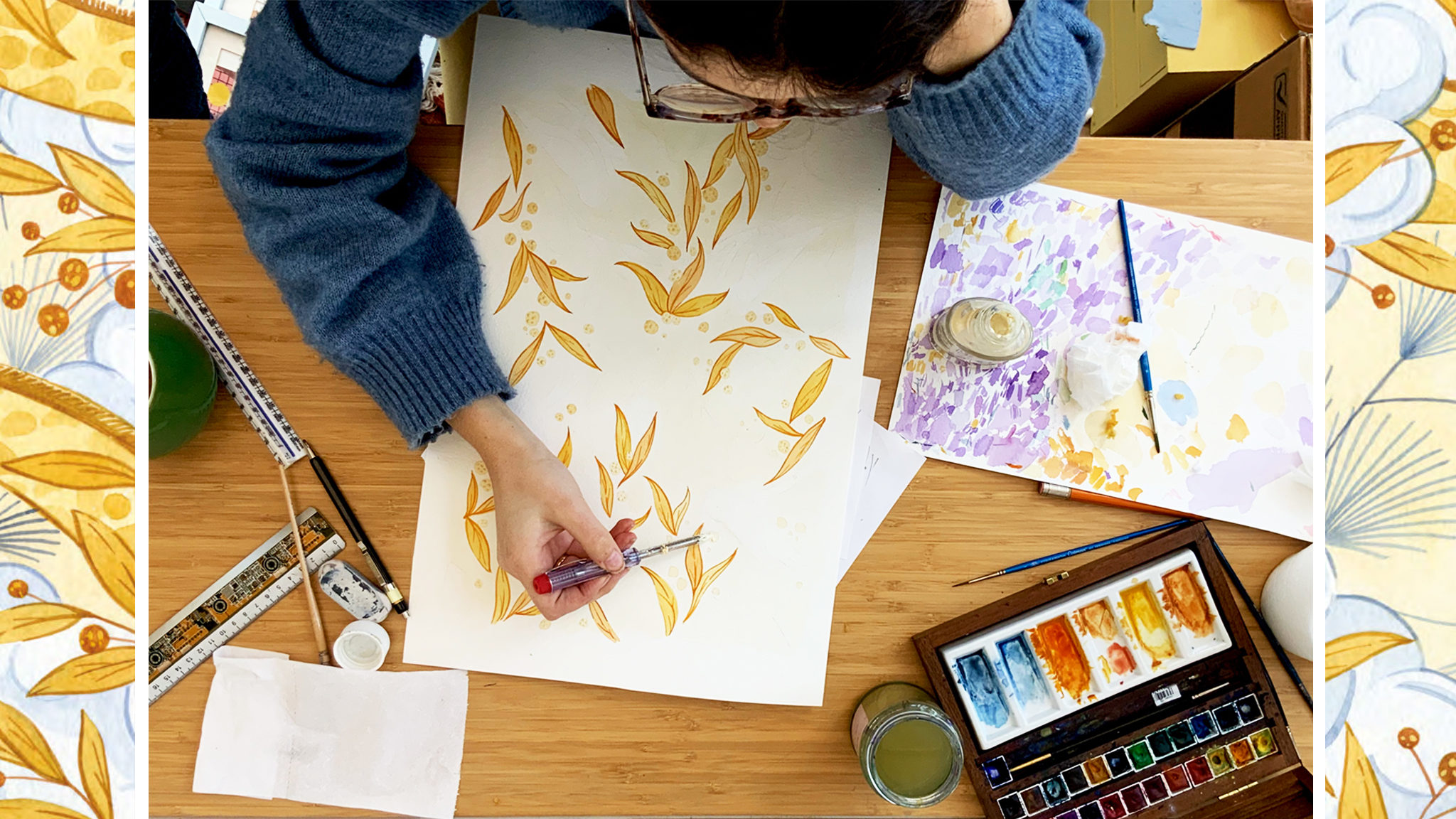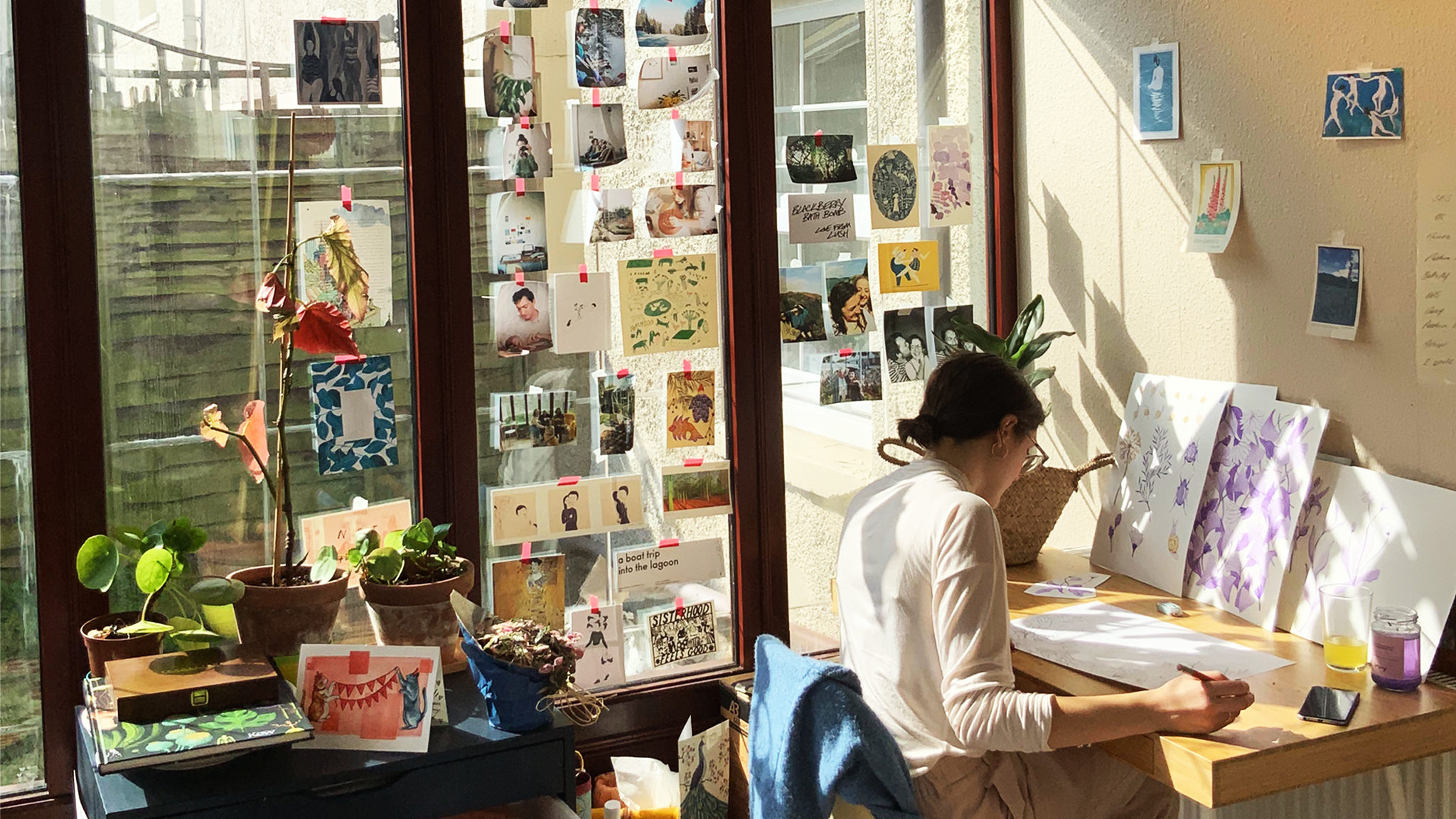 A beautiful treasure trove of tales perfect for bedtime, The Sleepy Pebble and Other Stories is co-written by sleep specialist Professor Alice Gregory and children's author Christy Kirkpatrick, who've incorporated mindfulness and other techniques into every chapter.
The book is fully illustrated throughout by Eleanor Hardiman, whose elegant watercolours truly bring this book to life. We sat down with Eleanor to get a closer look at her working process, and to get a behind-the-scenes look at her studio.
We'll pass you over to Eleanor to tell you more…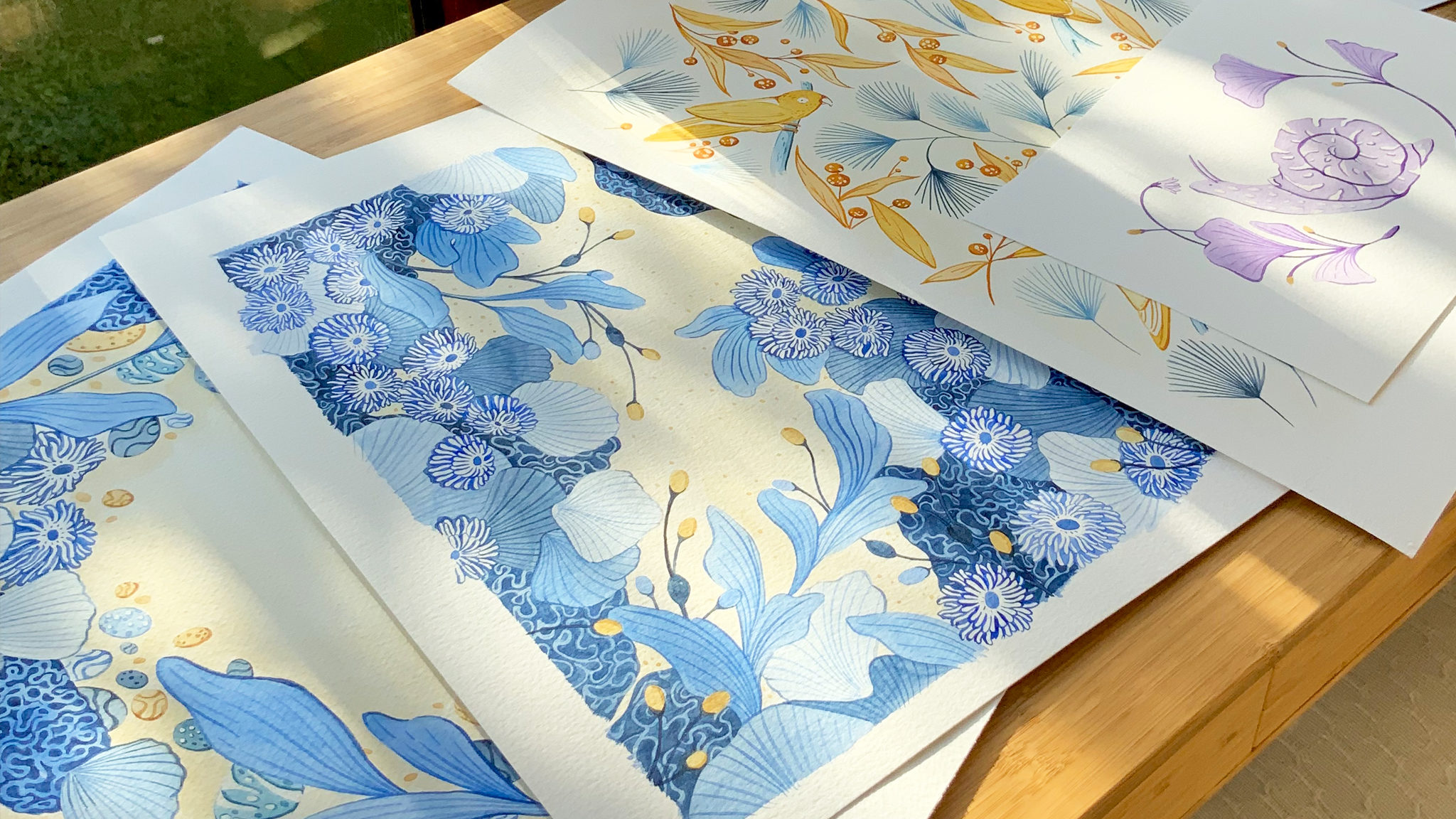 Using analogue media is really important to me and my process, and that starts right from the sketch stage. My roughs always start with pencil sketches, I have one retractable super chubby pencil that I love drawing with, it means I can create more flowy shapes and spreads without getting caught up in detail. 
The Sleepy Pebble and Other Bedtime stories took inspiration from old fairytale books in it's layout and contains a huge mix of different elements, this was the biggest challenge for me! The book includes a set of patterns, spots, character's, drop caps and single and double page spreads for each story. All my sketches start as little thumbnails and are then redrawn and finalised at book size to keep everything consistent. There were so many elements on the go I made tick-charts for each story to keep on top of all the artwork in its various stages. Seeing the rough sketches in the book layout for the first time was really exciting, it went from pages of various sketches into something book-like!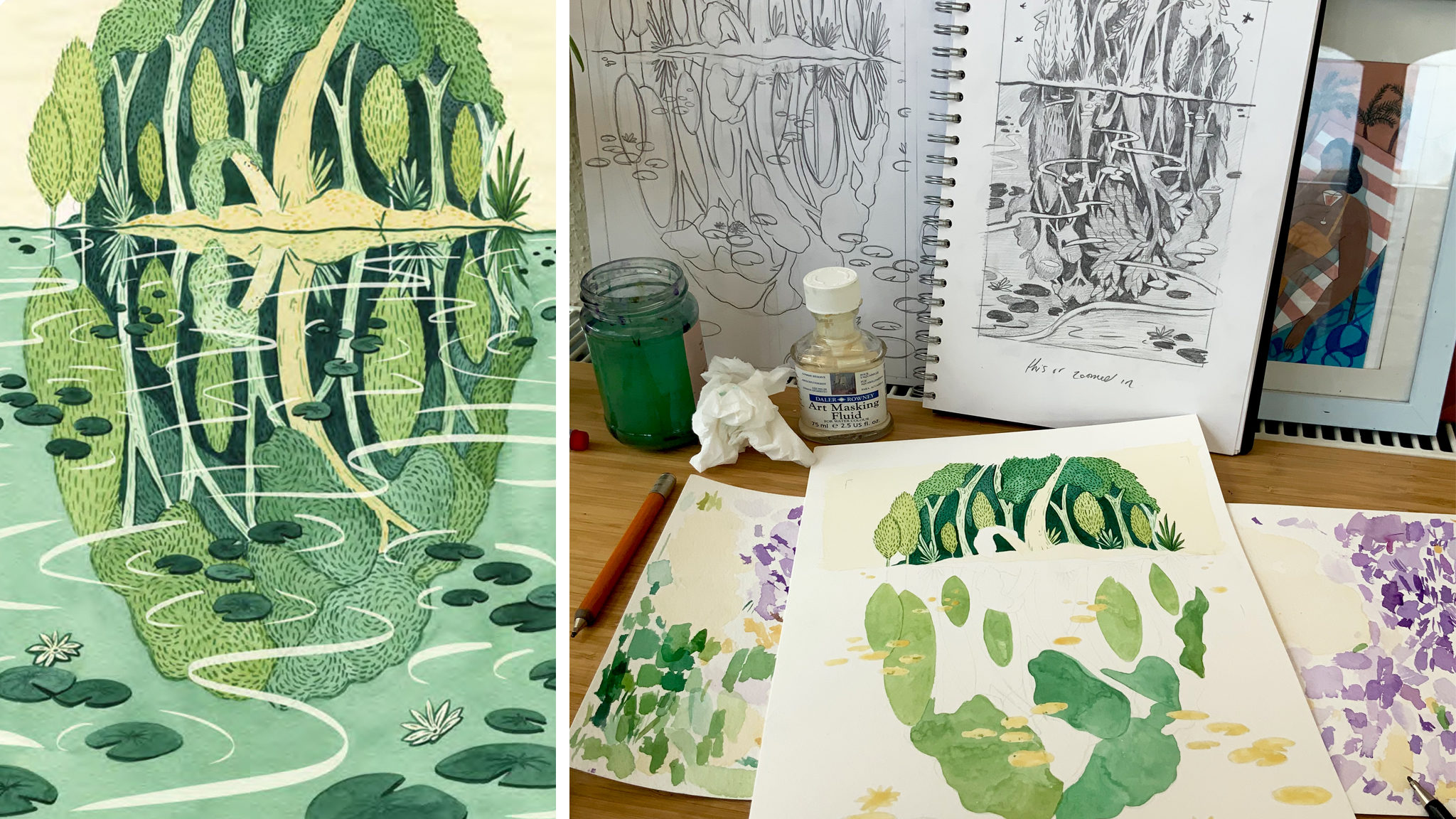 Each of the stories were so different and I paid attention to creating different environments with different plants and details for each one. I based the tree story on french lilly filled lakes, and the pig story took inspiration from the Vietnamese mountainous countryside.
Each of the 5 bedtime stories has a different limited colour palette, so my next step was to make detailed colour plans for each story and element, so that all the decisions are made before the final artwork stage. Watercolour is a very unforgiving medium so it's saves so much time by planning everything out! I transfer the pencil sketches over to procreate for the iPad pro and plan the colours digitally. The iPad means I can try lots of different colour ways out quickly without painting each option. This process saves lots of time and makes me more adventurous with colour, although I had to be mindful about including colours that are as effective in paint as they are screen.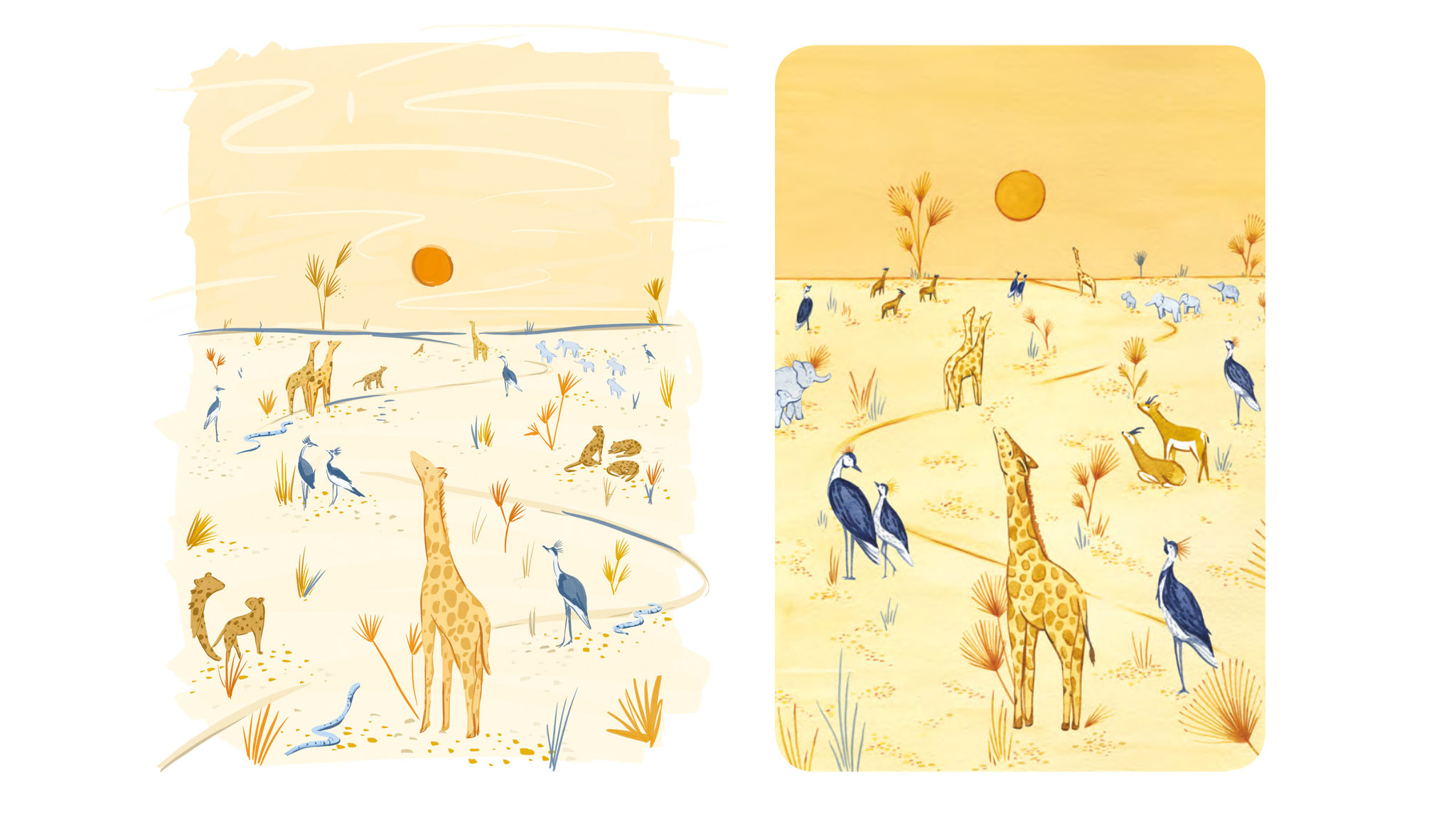 With a new book layout full of coloured roughs I was ready to start final artwork, my favourite part! I like to get really settled at my desk before painting, as I'll be there for a while. I usually have a cup of tea and a good podcast on the go. On my desk I have the sketch, colour plan for reference, a mix of brushes, tissue paper, clean and dirty paint water, masking fluid and a scrap of paper for testing the colour and consistency of the paint. I work traditionally with watercolour, meaning I start by painting the lightest colours, and work my way to the darkest using a combination of washes and thicker paint for the darker details. Simple elements like the drop caps or characters are painted as one final image, however more complex spreads with lots of elements are painted in layers and compiled together on photoshop. This means there is less pressure to paint everything perfectly first time (phew!) and also means elements can be moved or changed individually if they need to. I worked on each story one at a time, this was to make sure they all looked consistent as mixing paint again is tricky, but this also meant I really got to delve into each one, I love each story for different reasons and having this variety was a great part of the project.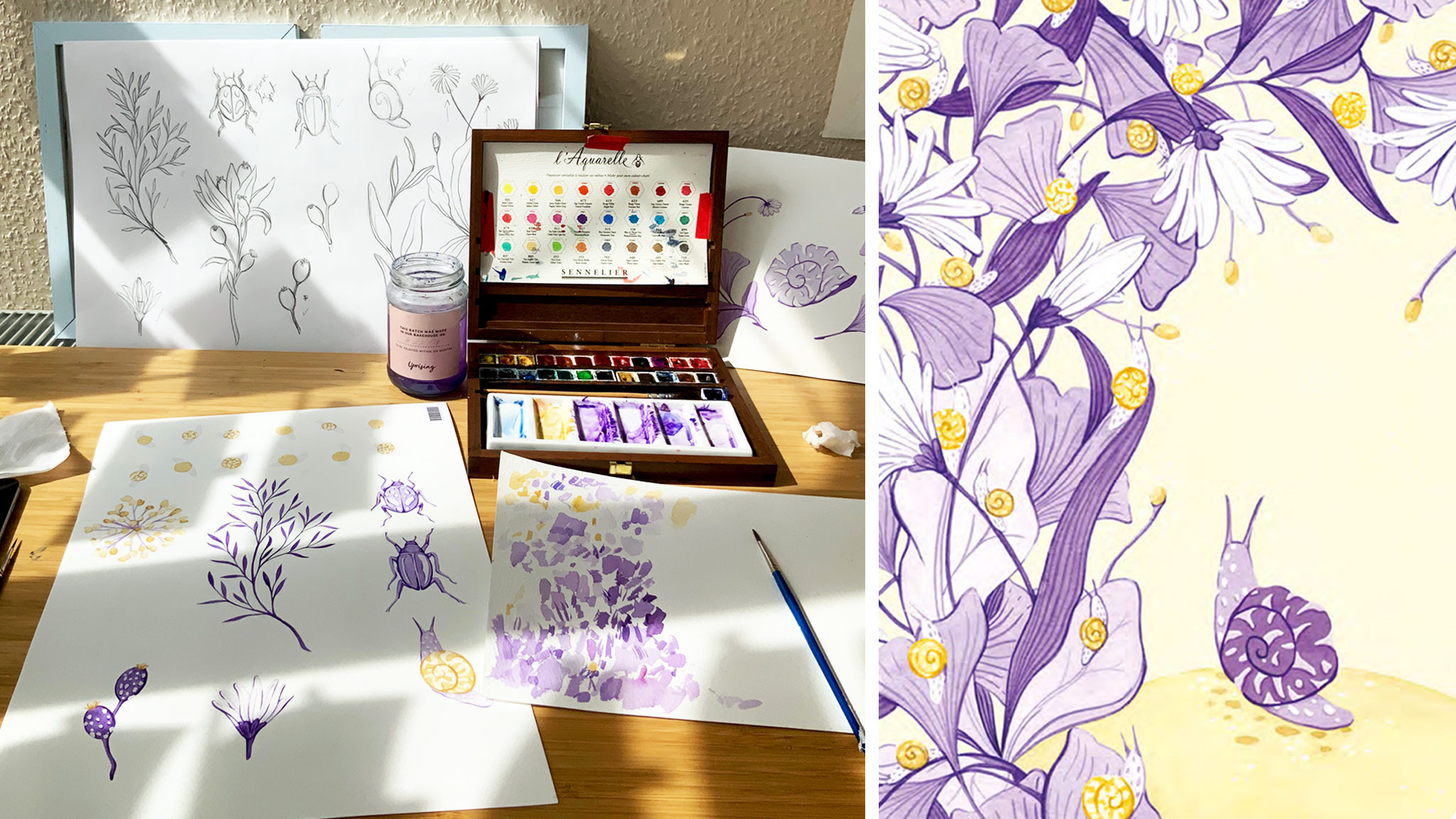 After scanning and combining the different layers of each image I start to edit the artwork digitally. This usually includes small tweaks like adding saturation or contrast to the paintings, cleaning up any marks and neatening any edges. Illustrating the cover of the book was so special as we got to include spot gloss and gold foiling (my favourite!), it also meant I got to revisit the underwater artwork and use all the squiggly coral patterns and speckled pebbles.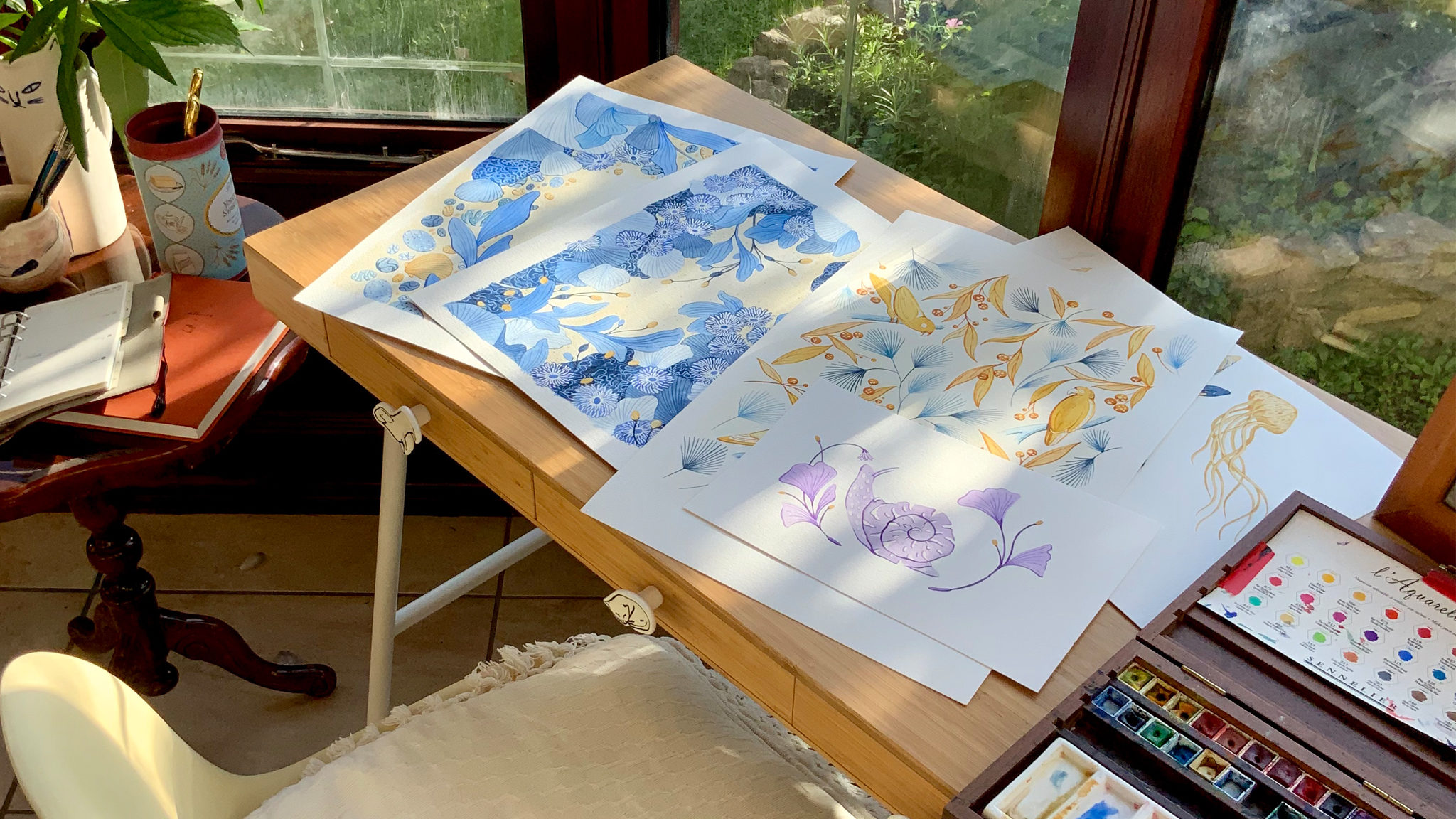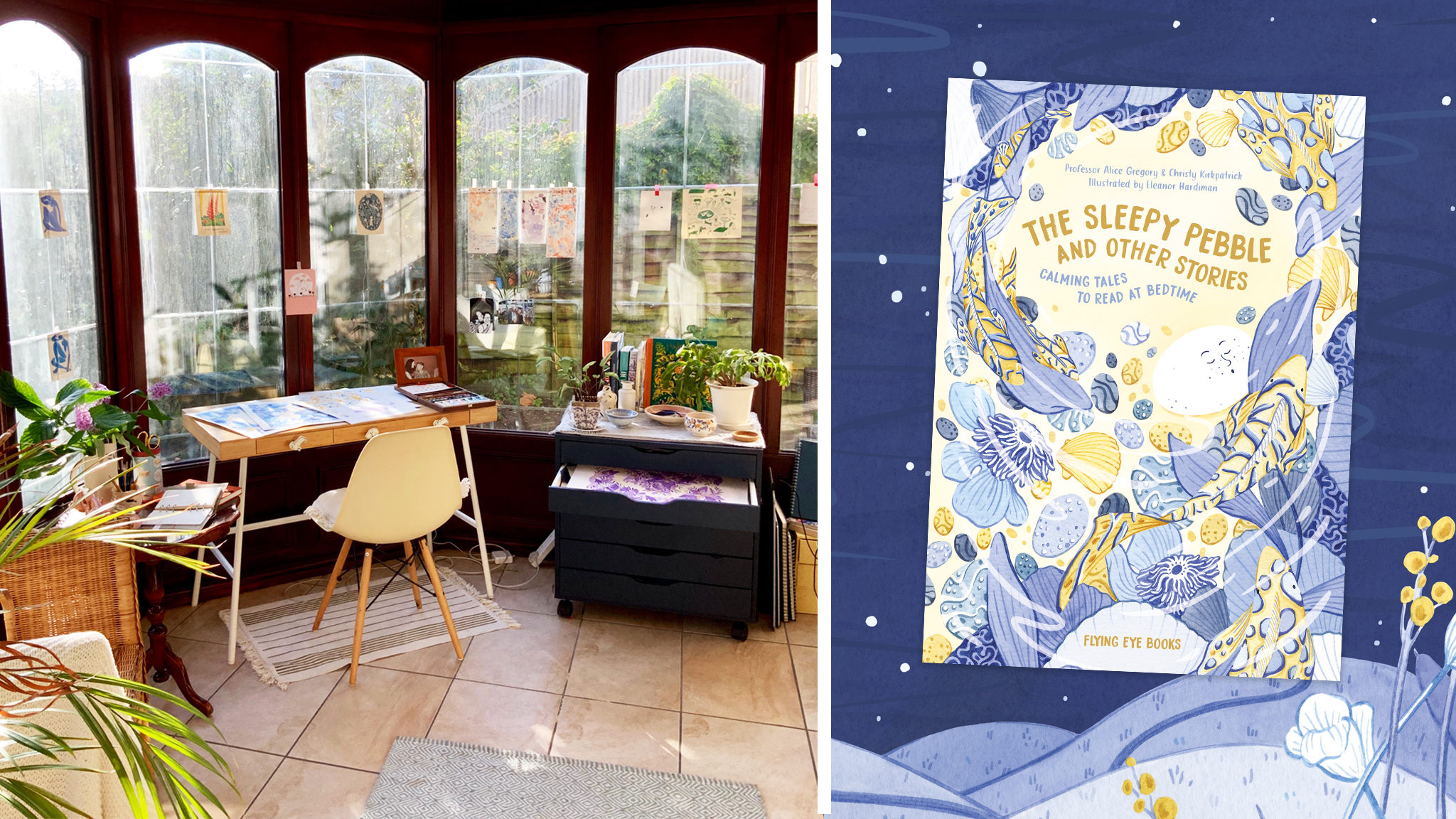 The Sleepy Pebble is out now in the UK, available on our website and in all best bookshops. The release date for the US and Canada is October 15th, and available from Penguin Random House.