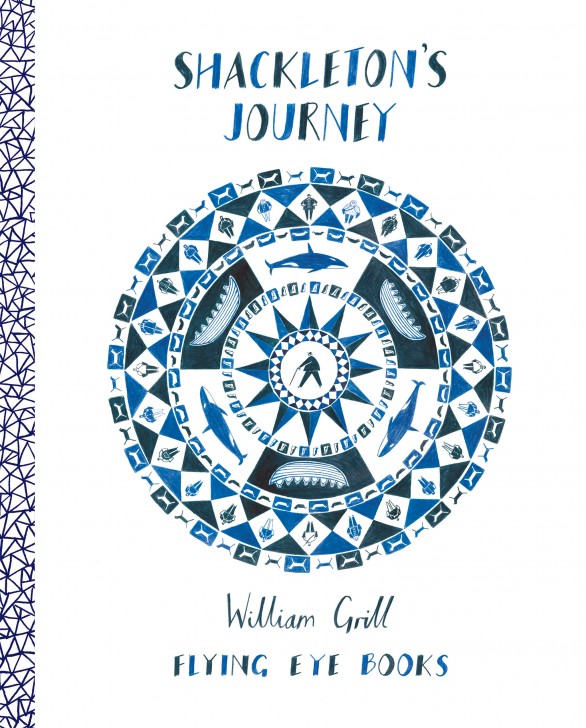 Yesterday was a very proud day for Flying Eye Books as William Grill became the youngest winner of the Kate Greenaway Medal for 50 years for his beyond brilliant debut picture book Shackleton's Journey. The Kate Greenaway medal is regarded as the greatest accolade an illustrator can receive, and is unique in that they are judged solely by librarians across the UK and has been awarded annually since 1956. Past winners include Raymond Briggs, Shirley Hughes and previous Children's Laureates Anthony Browne and Quentin Blake- William was shortlisted amongst stiff competition including the current Children's Laureate Chris Riddell. It also marks a first win for Flying Eye Books- having set out to publish the most beautiful, entertaining and awe-inspiring books for children, it is a real honour for us as well to have been recognised for this most coveted prize.
The judges said of Shackleton's Journey, 'The detailed small illustrations wonderfully bring to life the intricacies of life during the journey, whilst the breath-taking larger illustrations provide a strong sense of scale and highlight the enormity of the natural world. This is an exciting, quality book which provides a true experience and reminds us that it is the people, not the journey, that truly matter'.
We published the beautiful Shackleton's Journey in April 2014 to celebrate the anniversary of Ernest Shackleton's departure on "Endurance" across the Antarctic. William delivers a detailed visual narrative of this extraordinary and historical expedition.
William's beautiful use of coloured pencils and vibrant hues place him somewhere on the artistic spectrum between Raymond Briggs and David Hockney, and his fastidious cataloging of every single detail of the expedition is nothing short of a Blackstock collection.
William evokes the atmosphere and intrepid excitement that would have surrounded the expedition with his impeccably researched and detailed drawings. Children will love examining the exploded diagrams of the peculiar provision taken or the individual drawings of the sled dogs or pack horses. This book takes the academic and historical information surrounding the expedition and teams it with powerful illustration for all readers to enjoy.
Our deepest congratulations to William, who is so deserved of this success and much more yet to come!
For more coverage of the win follow the links below:
The Greenaway judges discuss the shortlist, and ask William some questions.
The Guardian spoke to William following the announcement and take a look at some of the pages from the book.
The BBC
The Telegraph
Publishers Weekly
. . . and plenty more online with
#CKG15
and
#ShackletonsJourney
trending on Twitter. You may have also caught William on BBC Radio 4's Front Row last night or this morning on BBC Breakfast!
And don't forget, you can pick up a copy of
Shackleton's Journey
from our
webshop
!