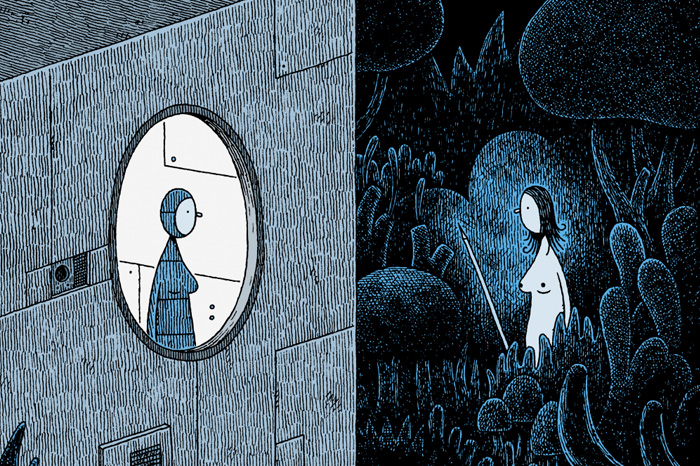 For all those of you who have been following us from the very beginning you're in for a treat. Your favourite illustration magazine doubles in size to include 60+ pages of comics from the world's foremost comic-creating talent as well as the 60 pages of beautiful and cutting-edge illustration you have come to expect! The best part is that we've only put the price up to £15 but you will get double the experience for a mere four pounds more. The issue will have a grand launch party at the always classy, ever fashionable DreambagsJaguarshoes on Kingsland road on the 3rd of November at 7 pm. We will be serving some delicious Ketel One Vodka based cocktails on the night, thanks to their kind sponsorship and the space will be decorated based on the theme for this issue, Doppelgangers or Doubles.
This issue is going to be bigger, badder and BDer than any of our previous issues with not one, but two covers by two of the most recognised illustrators out there today Tom Gauld and Gwenola Carerre. Read on to get an exclusive preview of what's in store, I think we can all agree its going to be a visual treat of epic proportions.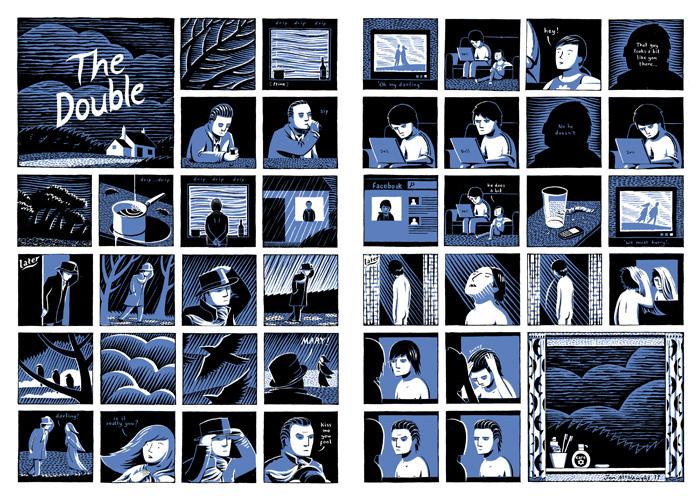 Nobrow 6: The Double will be an entirely new incarnation of our biannual journal as we double the number of pages to include comics and graphic short stories. At 120 pages it will not only present the very best of illustration talent out there, but also devote half of its pages to the world of comics, where we will showcase talent from the established as well as the new, all the while keeping true to our Nobrow spot colour aesthetic. With contributions from Tom Gauld (The Gigantic Robot), Kevin Huizenga (Ganges) and Malachi Ward (Utu) as well as new narrative work from Nobrow stalwarts Jon McNaught (Birchfield Close, Pebble Island), Jack Teagle (Jeff: Job Hunter) and Luke Pearson (Hildafolk) it will be sure not to disappoint.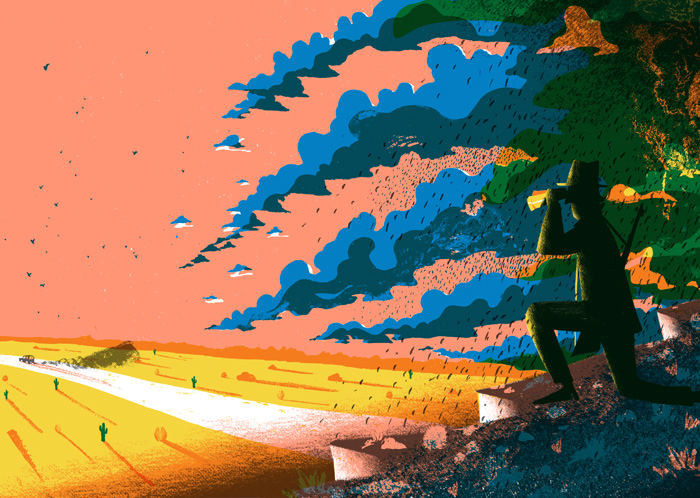 The theme of this issue The Double explores the sinister concept of the Doppleganger, one which has appeared in literature and mythology since our earliest written records. From Greek and Norse Mythology to Shelly, Dostoyevsky, Donne and Goethe the idea has held the human imagination, fascinating and terrorising us in equal measure. Now we turn it over to 60 illustrators and graphic storytellers to interpret it as they wish, each, taking on one 'double' page spread. With a double cover, the magazine will in fact be two magazines rolled into one, which will set a precedent for all future issues of Nobrow. We will continue to showcase illustration in its own right alongside new narrative art from some of the best practitioners here in the UK as well as from the rest of the world. Cover art by award winning cartoonist and illustrator, Tom Gauld.