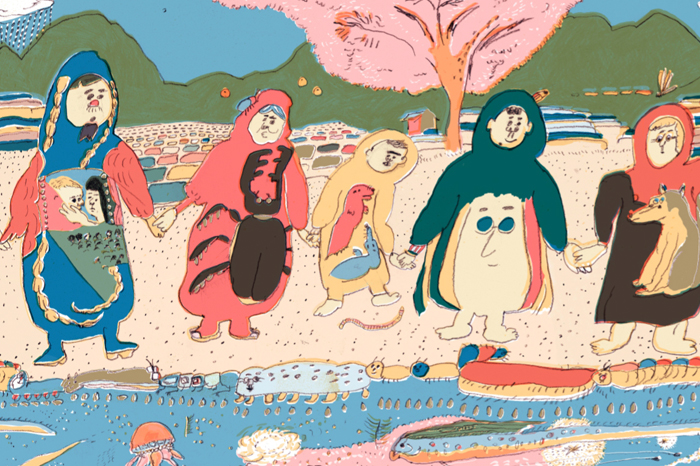 Chie Miyazaki is a 23-year-old artist from Saga in Japan who lives and works in south London. She is currently organising Egaku: a one day event to raise money for the Earthquake and Tsunami Relief Fund. Her intelligent composition, unique sense of colour and narrative made her a natural choice for Nobrow 5: A Few Of My Favourite Things. We caught up with Chie to see how she found it:
NB: Could you tell us what's happening in this image?
CM: The image shows the earth, with the sky, land and sea. There are some of my favorite deep sea creatures in the sea, I love looking at them so much. They seem weird but maybe we are weird to them. They make me feel like I'm only living in a small part of the earth.
The background landscape comes from my home town, mountains, rice fields and green tea fields. This big cherry blossom tree is more than 100 years old. The image shows Ohanami, an event which happens every year when the cherry blossoms bloom, we all sit around the beautiful tree and have Bento boxes and drinks with friends and family. Its so fun!
The people in the image are meant to be a family. They are wearing sleeping bags and each sleeping bag has a 'favourite thing' drawn on it: my dog Pero, John Lennon, a mole-rat, beetles, and cinema.
Also, since I was little my favorite cartoon character  has always been Doraemon. He is hidden somewhere in this image!
NB: Could you tell us how you approached colouring this piece?
CM: It was hard for me to decide the colours on the computer so I made a colour sketch with water colour. Water colour works well with over-lays. Using washes, I tried to build many colour tones with the four colours given to me by Nobrow; changing their transparency by adding more or less water. After that, I transferred these colours to the computer by scanning the painting. It was quite a long process but I enjoyed working in a new way.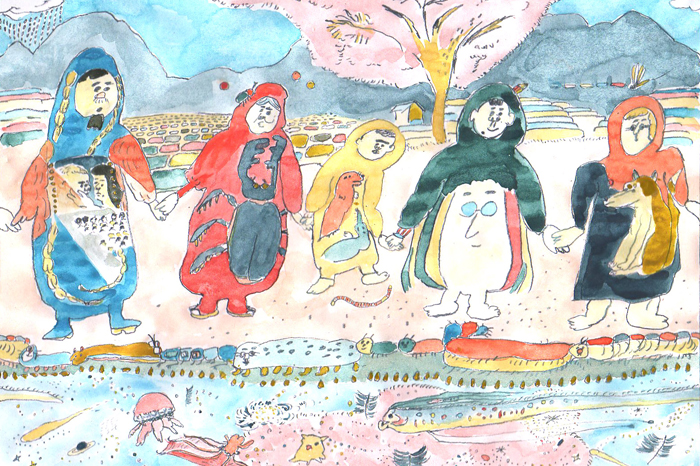 I like working in limited colours. Matching the colours from my sketch to the four Pantone choices was like a puzzle game with my eyes. Working with full colour is fun as well, but in some ways can be more difficult. There are too many colours I want to use in this world, its sometimes hard to make a choice!
NB: You seem to be interested in characters who have things taking place on their bodies. How does this piece relate to your whale prints and animation?
CM: When I make my work I pick things up from my favorite memories, situations, films, books, and things I've seen. Most of my favorite memories are surrounded by good people and animals. The reason my characters often have places or things on their bodies is because they are symbols of these memories.
I made my Magic whale prints for a picture book, the story was about a lonely whale who has no friends in the sea so he tries to make friends with humans using his magical body. My animation has a different story from the picture book but the same magic whale came up in this animation. I made the story-board in a similar way to making an illustration: I put my favorite memories together. The difference with working in animation is that on top of the narrative aspects of illustration you are also dealing with time, that was an exciting challenge!
I made this animation after the whale prints. By then, he had become one of my favourite memories so he swam past in my animation.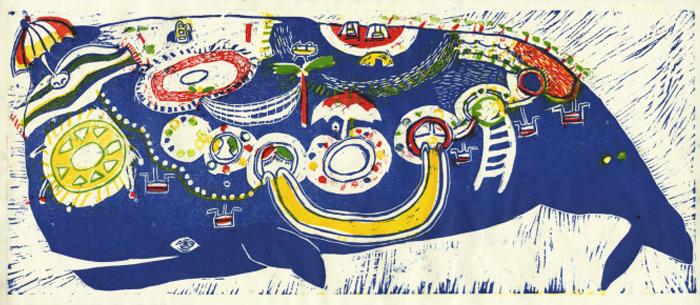 NB: How did you approach making the repeating pattern?
CM: It was hard for me to get my head around making a pattern image. I started by making connection points on the edges of the image, then I just drew what I wanted to draw. I came back to fix them together and it worked!
I wanted to make the whole image like the earth. the earth is also made by repeating places. The sea and sky continue around the world. Land, mountains and humans are everywhere. So I think my subject was very suited to a repeating pattern.