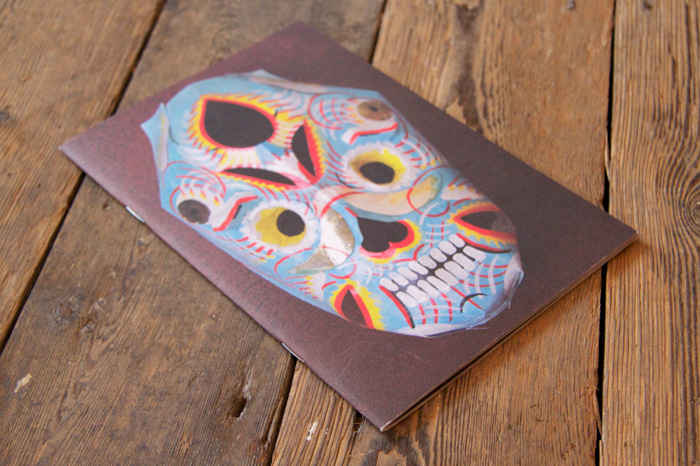 Another from Blexbolex, this time collaborating with the excellent German artist Stefanie Schilling (featured in Nobrow 4). Together they bring us 47 masks over 36 colour pages. Featured in the book are a variety of monsters, a sheep, an old lady, a young lady, the Devil and many more.
Almost the only text in this volume is on the first end paper, it reads 'fun for all ages… Reborn Again.' the artists and publishing information are located in tiny text, virtually inside the spine on the last page and they are hard to recognize. This piece is a departure for both artists in terms of the work that they have commercially available. It's difficult to pick out Schilling's Victorian sensibility or Blexbolex's ligne claire influence; the subjects of the book are 3D objects, this from two artists who have previously been fairly print-process oriented. It's great to see them interacting and expanding into 3D, obscuring each others traits and still producing something that works.
This book was published in June of 2010 by Stephane Blanquet's awesome United Dead Artists and is currently available in Nobrow Shop and Gallery @ 62 Great Eastern Street, London EC2A 3QR, for only £5!.. while stocks last.