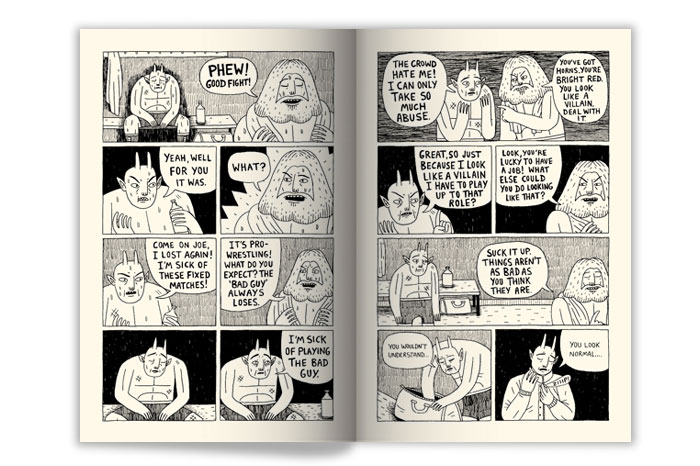 We are pleased to announce the pre-order release of Jack Teagle's latest book Fight # 1 all copies will be sent off on Tuesday 5th July. All pre-orders are signed copies so don't waste any time!
Fight! # 1 introduces us to Lou (short for Lucifer), a British professional wrestler in his mid thirties. His career as the malevolent Diablo could never have been better, he has hundreds of expectant wrestling fans that queue every Thursday to watch him battle his fierce enemy Savior – the long locked, golden-skinned 'good guy'. But Lou isn't quite happy… You see Lou, both on and off stage, has the appearance of a devil. But in reality you could not find a milder mannered or gentle creature. Lou desperately yearns to be appreciated for who he is and not what he looks like, unfortunately being bright red and having horns doesn't do him any favours.
Turmoil develops when Lou threatens to leave wrestling, throwing the circuit into chaos. Despite being hated, he is also one of the biggest acts. The other wrestlers grow more and more concerned as their careers are increasingly threatened by the void where their arch nemesis once stood. Will Lou be able to live down his image? At what cost will he achieve his desire for respite and respect? Will his past ever let him move on?