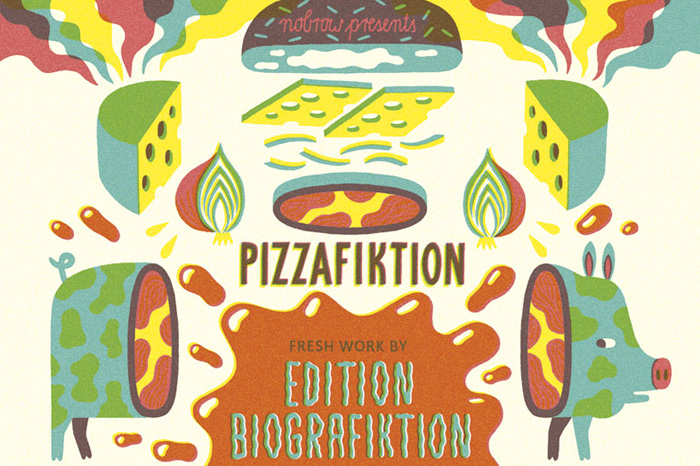 Nobrow Press is bursting at the seams with excitement and glee that we have the opportunity to present the amazing collective Édition Biografiktion and their exhibition Pizzafiktion to what we are sure will be a fine crowd of admiring East-Londoners! The venue is the always fresh Old Shoreditch Station located on Kingsland road and the private view will be on the 10th of November kicking off at around 6pm, we strongly urge you to be there to buy their amazing screenprinted books and witness the awesomeness of the space.
All the way from Berlin come frequent Nobrow collaborators 'Biografiktion' – amazing small press illustration and comics collective, these guys are exhibiting their works in London for the first time at The Old Shoreditch Station Bar. The theme of the show is 'food' so expect some tasty artwork! Édition Biografiktion is: Ana Albero, Till Hafenbrak and Paul Paetzel.
On meeting each other on the Illustration course at the University of Arts in Berlin in 2008 they founded their collective. Their first publication "Biografiktion" is a comics magazine, wehere, in each issue, the three Illustrators tell fictional stories about a celebrity. Their screenprinted edition "Human News" is more focused on their illustration work. Ana, Till and Paul also release solo books via their mini publishing empire. To produce their artwork they use silkscreen, lino-cuts and photocopiers. see more fo their work here!
Till Hafenbrak is an Illustrator living and working in Berlin. He graduated from the University of Arts Berlin in 2009, his final project being a screen-printed book based on Professional Wrestling. In his Illustrations he works with strong and contrasting colours. His favorite themes are animals and the natural world. Ana Albero was born in Alicante, Spain. She studied in Paris and then Berlin where she specialized in Illustration. Since her graduation at the Berlin University of the Arts in 2008, she works globally as a freelance illustrator based In Berlin. Ana works primarily in graphite and colored pencil creating vibrant textured images inspired by old pictures and movies. She also spends her time binding books, self-publishing comics and walking around in Berlin staring at dogs. Paul Paetzel lives and works as a freelance Illustrator in Berlin. Paul, a native Berliner, also studied Visual Communication at the Berlin University of Arts. In 2010 he graduated with the Comic "Die Geschichte von Rudolf". His works have been published in international anthologies such as Kush!, Plus Plus, Nobrow, Blutt, Crachoir, Gang Bang Bong and Orang. Sometimes when he is not drawing Paul does some Karate exercises.
RSVP to this shindig now!