Last month, we released the first book by Luke Healy, How to Survive in the North. In his stunning debut graphic novel, Luke weaves together the true life historical expeditions of Ada Blackjack and Robert Bartlett, with a fictional tale of a modern mid-life crisis; creating an unforgettable journey of love and loss that shows the strength needed to survive in the harshest of conditions.
Here at Nobrow, we are so lucky to work with so many incredibly talented illustrators, but it's not all sketchbooks, Wacoms and days glued to computer screens for these guys! Largely inspired by his own book, Luke Healy set off on a journey of survival of his very own and being the master storyteller that he is, has chronicled his adventure so far for you…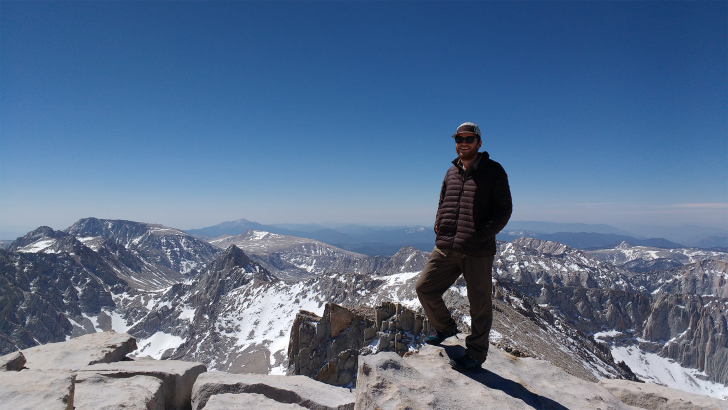 In 1914, Captain Robert Bartlett walked 700 miles across the frozen Arctic ocean. He was attempting to reach civilisation and, by extension, rescue the crew of his ship, who were otherwise helplessly stranded on the frigid, desolate Wrangle island. I wrote a book about this.
Just a few weeks ago, I crossed the 700 mile mark on my own long hike. But I wasn't dealing with freezing temperatures, and the tirelessly shifting Arctic sea ice. I was dealing, in fact, with quite the opposite. A forest fire. And as I ran from the fire, wishing for an end to the heat, and the dryness, and the whole damn desert, little did I know that I would soon be slogging through a whole set of icy wastes. Just like the characters in my book.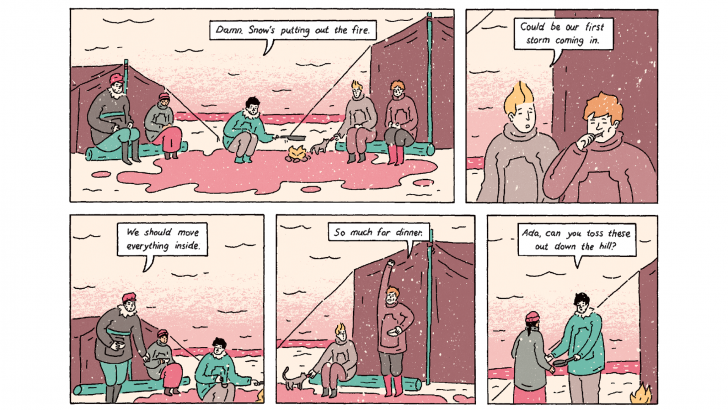 This summer, I'm attempting to walk from Mexico to Canada, along a 2660 mile wilderness trail that runs through national and state parks, paralleling the West coast of the United States. It's called the Pacific Crest Trail. You might have heard about this trail from the Reese Witherspoon film Wild, or the 2013 book it's based on by Cheryl Strayed. That's how I heard about it.
I've never been much of an outdoors person before this trip. In fact, researching Captain Bartlett's walk for two years, while I worked on my book How to Survive in the North, is probably what made me curious about my ability to do something like this. I had just finished up writing How to Survive when I first heard about the PCT.
As I worked to finish drawing the book with Nobrow, I knew I was going to attempt the hike. I set the date, and got hiking. I was even on trail when the book was released just one month ago, somewhere near mile 450.
The PCT starts in the desert, right on the USA/Mexican border, an emotionally charged place, for many reasons. But it's also charged with something else; heat. It couldn't have been more different than the conditions on Bartlett's hike. The first section of the PCT, miles 0-700, are classified in all the guidebooks as "The Desert".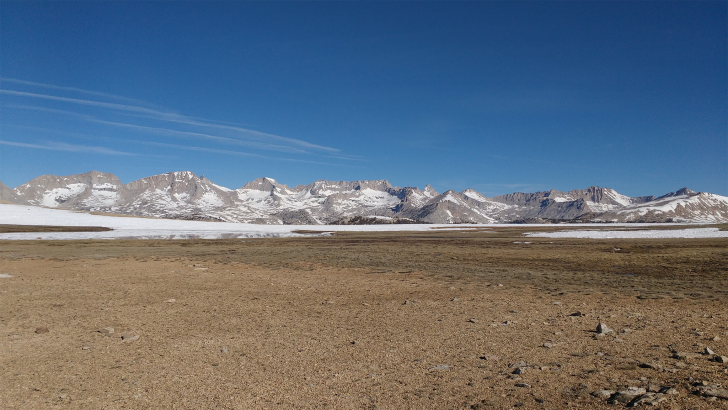 And it truly is the desert. Cacti, rattlesnakes, a troubling lack of water. Everything you picture. But it also has things you don't picture, things you don't expect. Sometimes the trail journeys up to higher elevations, and that means lush pine forests, and vibrant wildflowers, and occasionally even snow.
I got snowed on for the first time only two weeks into my hike, on top of Mt. San Jacinto, a peak that hits almost 10,000 feet. It's considered a fairly small mountain in California, but it's nearly three times taller than Ireland's tallest peak.
I remember thinking "How did they do it? How did Bartlett walk through the snow for 700 miles?! How did Ada Blackjack survive this kind of cold in a tent for two years?". The desert heat was one thing, but to be cold and numb for such a long time, was something I knew I wouldn't be able to deal with.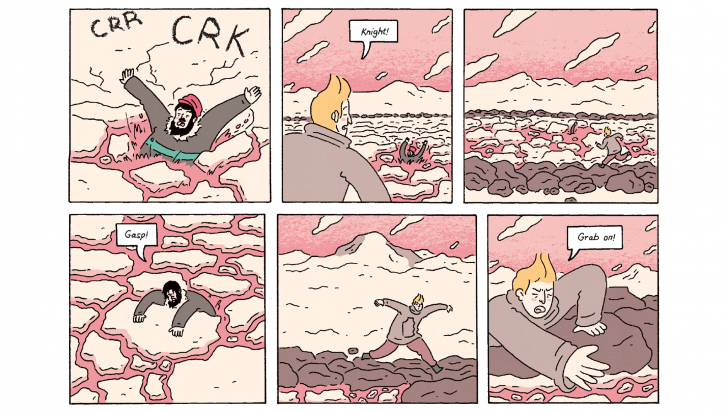 But still, as I pressed on, I kept the 700 mile mark firmly planted in my head. That's how far Bartlett went, that's the end of "The Desert".
But the desert wasn't going out without an event. As I neared the 700 mile mark, a wildfire ignited only a mile or two from where I was standing. I hiked 28 miles in one day to escape the smoke. It was the scariest day of my life. As I limped into Kennedy Meadows, a little general store perched near the 700 mile marker, hikers applauded from the porch through the night's blackness.
I couldn't help but smile. I had walked 700 miles. I had matched Bartlett's distance. Even if I had to turn around and go home tomorrow, the trip would have been a success.
Still, my ability to empathise with the characters from How to Survive was only just beginning. As the trail climbed out of the desert and into the High Sierra mountains, I began to see more and more of my dreaded frenemy. Snow. And lots of it this time. Not just the half-inch sprinkling I saw on San Jacinto, but whole fields of the stuff, feet deep, left behind by a good winter.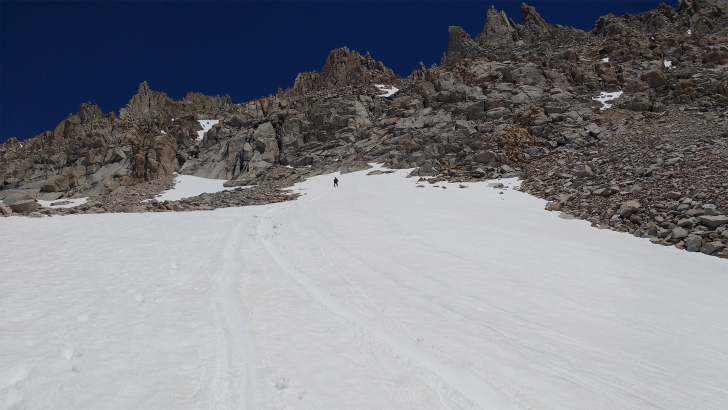 And boy was it tough to deal with. As the passes and peaks climbed higher, some over 14,500 feet, the snow grew trickier and trickier.
I remember making an edit late in the process of drawing How to Survive. The earlier drafts had the characters simply standing on top of these fields of snow, as though it were a field of white carpet. But close to the end of production, I thought "That's not right, their feet should be sunk into the snow". I was thinking back to my time living in Vermont, where walking through snow only happened after a fresh snowfall, before the plows and street sweepers had come through the town.
Well it turns out I was only half right. In the afternoons and evenings, you did indeed sink through the snow up in the High Sierra. In the mornings, however, the snow was frozen solid, into huge sheets of ice. It was hard, and slick like wet glass. Especially when the trail climbed above the tree-line, and I was left in these desolate, exposed, snowy stretches, clutching my ice axe, microspikes fixed to my shoes, praying I didn't slip and slide off a cliff, did I think: "I get it".
For four or five hours per day, I understood, really understood, what it must have been like to be stranded on Wrangle Island, or working my way across the sea like Bartlett and Ada Blackjack.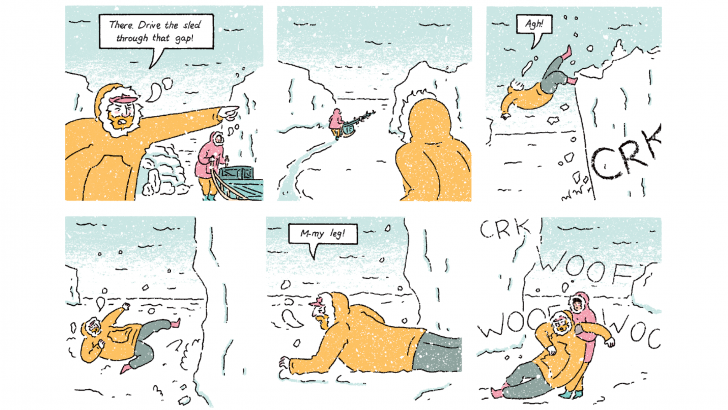 I ran out of food, I slipped and injured myself, I was plunged into ice-cold rivers. My tent collapsed in a snow storm as I counted the seconds between the lightning flashes and the thunder booms. Flash…1…2…Boom…Flash…1…Boom.
I could barely handle it psychologically and physically for two weeks. I can't even begin to imagine how the real-life subjects of How to Survive lived that way for over two years.
As I write this now, I'm sitting in the town of Mammoth California, 906 miles into the trail. I'm almost done with the High Sierra. Almost done with the snow. And my appreciation for Bartlett's journey and Ada's fortitude has increased exponentially with every step across an expansive snowfield or icy cliff.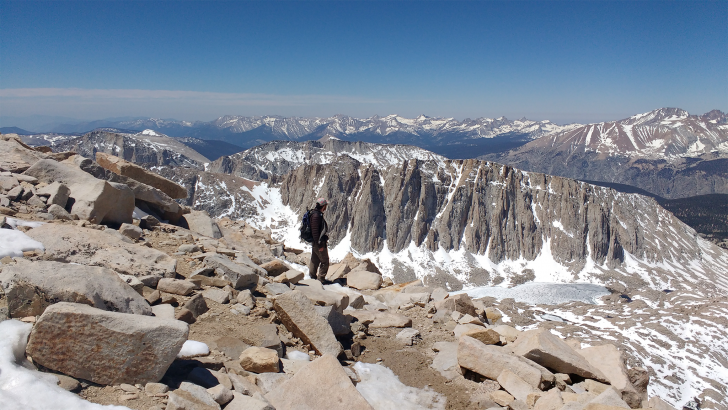 I can't imagine the difficulty and danger of Bartlett's own hike. I can't imagine the pressure he felt, not only attempting this incredible, near-impossible journey, but having the lives of dozens of people depending on him.
I'm glad I can understand a little better what Bartlett's journey felt like. I'm excited to continue my hike. But you can bet your bum I'm glad that nobody's life is depending on it.
If you're feeling inspired to buy the book, you can grab a copy here (and we ship worldwide) or from any great bookshop. If you're feeling inspired to set off on an epic adventure of your own, good luck!