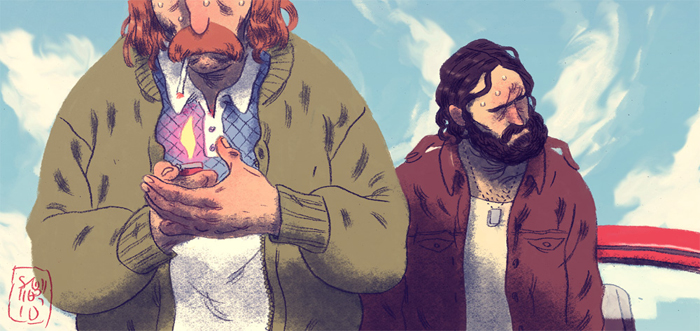 It was just over two years ago in December 2008 that Sam and I moved our first few boxes into the office/studio we had just found in Great Eastern street. We were keen to get started, surprisingly undaunted by the overwhelming predictions of doom and gloom from the English Media Cassandra. Besides, we had already started the process, packed everything else in, and any volte-face would have been much harder to stomach than the ensuing audacious march into the void of uncertainty and possibility. But the opportunity to try our own hand at something different, vindicated by the failures of our patriarchal predecessors, was certainly attractive to many and we thought: "why not? Maybe we can do better?" That, I suppose, is the crux of what spurred us on to start Nobrow: "Maybe we could do better?…"
Two years on and a decent library under our belts, we couldn't be more pleased with where have have gotten to in this short space of time, but now, as then, we are constantly thinking of ways we could do things better. So here's a Christmas promise/New Year's resolution to you, our valued and loyal followers: we promise to keep you better informed about our future projects, to provide previews of upcoming titles as well as in depth articles about process, both from our artists and from ourselves; we promise to provide you with more content online and a better online shopping experience and to impress upon you further, hopefully, that print does have a home in our futures and that we will do our best to be a small, but significant part of it; and finally we promise to wow you with more titles than ever and an ever more illustrious line up of artists. We can't say who yet, but a big name in comics will be collaborating with us on a few projects in the New Year and we are very excited to work with them. We will also be releasing another anthology like the applauded A Graphic Cosmogony and finally we will be producing many, many more comics and illustrated books for people of all ages and tastes.
In the spirit of greater transparency, here is a sneak peek of an up coming talent we will be doing a lot of work with this year. Mikkel Sommers hails from Danemark and has been working on a comic for us called 'Obsolete'. The story follows the fortunes of two men who return from war to find themselves rejected by society and let down by the system that they were dedicated to uphold, at whatever cost. Drawn in the unmistakeable, masterful style of Mr Sommers, the 17×23 comic will not only be a feast for your eyes, but an action packed exploration of the outer limits of nihilism told in a way that suggests experience in the field long past Mikkel's years.
Merry Christmas and a Happy New Year to all, see you on the other side!